I have your attention now don't I???
This is what really happened. There are nights when I just cannot sleep.
No matter how cozy the bed may be, I will awake at about 2:30 AM.
I will toss and turn until I do this ~
Start reading blogs.
Becky's blog is one of my favorite go to blogs in the wee hours.
Comfy, cozy and fun. Guaranteed to give you sweet dreams.
Or I am off to visit Aunt Ruthie.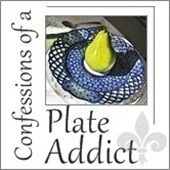 Last night I was here because I am a hard core plate addict!
source
After a while I got sleepy and crawled back under the covers. I had a
dream that I met Brad Pitt while waiting at a train station in Connecticut to
catch the next train to NYC. He asked me out on a date. He didn't look
so cute. And I SAID NO ....
Because of this guy. Even though he does silly things like wearing
this Guy Fieri type visor when he plays golf ...
after 23 1/2 years of marriage, he still floats my boat!
No worries Angelina! Brad is still yours.
Joining ~
Bentley ~ our hearts belong to that silly daddy of yours!
Hugs,
Susan and Bentley